1906 Red Vintage

"La Colorada"
Our brewmasters recoverd one of the old Hijos De Rivera Historic recipes, the "Especial Extra" (La Colorada) and brought it back to life.
An intense Amber Lager, with a delightful caramel & roasted malt profile, subtle hop bitterness & slight warming finish.
AROMA
The balance shifts slightly in favor of malts, with pleasant sweet notes, caramel-like.
APPEARANCE
An intense amber beer
TASTE
The bitterness balances the intense alcohol content and the light piquant aftertaste.
ALCOHOL CONTENT
8%
IDEAL TEMPERATURE
5-6ºC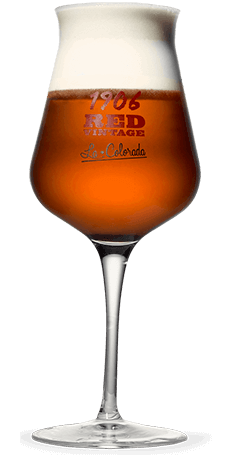 Formats
11.2 oz. bottle
FOOD PAIRING SUGGESTIONS
Cheese
Blue cheese
Seafood
Octopus (Galician style), fish and squid stew.
Fish
In smoked preparations (salmon, trout), marinated in brine (sardines, anchovies), or tuna tataki.
Meat
Rich and intense meat (like Iberian pork), pickled small game, strong marinades.
11.2 FL. OZ.

BOTTLE FORMAT