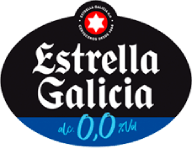 PERFECT COMBINATION OF CEREAL AND HOPS USED IN THE PRODUCTION PROCESS. WITH A BRIGHT GOLD COLOUR, IT HAS A BITTER AND REFRESHING TASTE WITH A PLEASANT SWEETNESS.

Estrella Galicia 0,0%
Estrella Galicia 0.0, our delicious alcohol free beer, boasts the golden colour of a typical Pilsner style beer. Brewed for the first time as a true 0.0%, our alcohol free lager, is developed through an interrupted fermentation process.
Estrella Galicia 0.0 is a top brand in the world of alcohol free beer and motor racing, and this year we've become the official beer of the MotoGP competition
ABV
0.0%
COLOR & BITTERNESS UNITS
43 SRM 15 IBU
RECOMMENDED Tº
39-42ºF
APPEARANCE
Golden colour, typical of a Pilsen beer.
AROMA
Reminds the malts and cereals used in brewing, with subtle and floral hoppy notes.
FLAVOUR
Pleasantly sweet and slightly bitter aftertaste.

FOOD PAIRING SUGGESTIONS
CHEESE Fresh cheeses
VEGETABLES Salads with citric dressings, tomato, gazpacho
SEAFOOD Streamed shellfish, with citric and sour dressings
FISH All kinds of whitefish, with citric and sour dressings