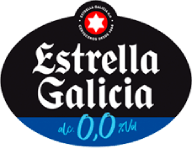 PERFECT COMBINATION OF CEREAL AND HOPS USED IN THE PRODUCTION PROCESS. WITH A BRIGHT GOLD COLOUR, IT HAS A BITTER AND REFRESHING TASTE WITH A PLEASANT SWEETNESS.

Estrella Galicia 0,0
Refreshing beer developed through an interrupted fermentation process. Estrella Galicia 0.0, our delicious alcohol free beer, boasts the golden colour of a typical Pilsner style beer. Estrella Galicia 0.0 is a top brand in the world of alcohol free beer and motor racing.
APPEARANCE
Golden colour, typical of a Pilsen beer.
AROMA
Reminds the malts and cereals used in brewing, with subtle and floral hoppy notes.
FLAVOUR
Pleasantly sweet and slightly bitter.